Let nature inspire the nature of your team!
Team Building, Leadership and Corporate Off-Sites
---

DNA for success
For almost all of our 200,000 years on the planet, we have walked on dirt and used the survival skills passed on from our ancestors to solve life's greatest challenges in unfamiliar and sometimes completely inhospitable terrain.
Awaken success
Our immersive Team Day Wilderness Experience uses the Really Wild Method to fully engage your teams in tasks that break down mental boundaries, revealing untapped potential and a greater understanding of their strengths and weaknesses.
We invite you to unlock these dormant skills in your teams with a return to the WILD!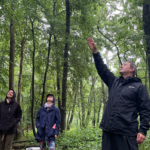 Is your team struggling with…
Creative problem-solving tasks
Decision-making
Communication breakdowns
Building a supportive team culture
Nurturing leadership at all levels
Lack of innovation and taking risks
We offer customisable packages with…
Bushcraft skills
Workshops on business topics
Survival mindset
Team building exercises
Safe and challenging environment
Guidance and feedback
"Nowhere is more competitive than the wild… except perhaps for the wild world of business!"
–Steven Shove, Founder of Really Wild Business
Don't let unproductive teams fester. Recalibrate them onto a new path where they utilise their innate human capabilities to become empowered, resourceful and consequence-aware human beings.
Are you searching for a team-building experience… with a difference? There are many choices for team events, but look at what your teams could be doing with us!
Request Info on our Work Team Days
We would love to hear from you.
Enquire about our Team Day Wilderness Experience for your next day out of the office!
---